Bio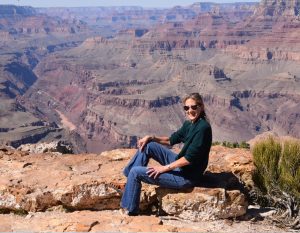 I've always been the "Artsy Fartsy" type but in the mid 1980s I was bitten by the beading bug! I had seen some beautiful beaded earrings made by a neighbor and that was it for me. Over the years I've learned many different stitches and techniques and loved every minute of it! Then, in early 2016, I found out I was going to be a Gramma, so I decided to teach myself to crochet, as I had always wanted to learn and this was the perfect time – you know, baby booties, hats, blankets! So that started another chapter in my creative life. I have gone on to make much more than baby stuff!
The little animals I'm in love with making are called Amigurumi – okay, so now for the next chapter that I have started in my creative life. At the beginning of 2020 I resolved to start painting. I wanted to start small and also wanted to find a canvas that was very inexpensive. I chose rocks! They are so abundant around where I live and come in all sorts of sizes! I'm loving it! I still love my beading and crochet too! Hence my new name, Birdlady Creations!
About My Art
I've always had a difficult time getting my work out there to be sold. Putting it in shops has never been really successful. Maybe I just never had it in the right places.
I do know that when I am there with my work it sells better! I DO think it tends to sell itself, but for some reason I have to be there with it! People love to wear my jewelry and display my window hangings and rock paintings and crocheted creatures.
Sometimes I think people just need these things in their lives.
Contact Info
Audrey Kunkel Beaded Designs on Facebook
HC81 Box 634
Questa, NM 87556
audreykunkelbeadeddesigns@gmail.com