Bio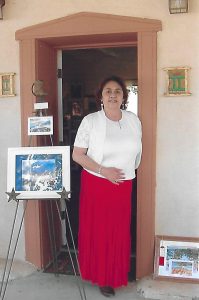 Buenas dias. My name is Nancy A DeHerrera Crochet. My business name is Sangre De Cristo Photos, named after our glorious, majestic mountain range, full of color and life all year round. I'm a photographer/artist and enjoy the blessings that were given me.
I was born in Embudo, and raised in Costilla on a large farm, along with my 7 siblings. My awesome parents, Valdemar and Consuelo DeHerrera, are both native New Mexicans. I've a great husband since 1955, Steve Crochet, one son and two grandchildren.
Being raised in northern New Mexico in itself carries lots of meaning, knowing about our traditions and values, and living by them. Speaking our Spanish language is very important, as is respect for our elders, god, and the american flag.
About My Art
I'm a proud norteña woman.
I've been taking pictures for most of my life. I got my business license years ago, and have enjoyed every minute of having a small home business, working for myself. To say the least, it very empowering. I love the great outdoors and specialize in landscape photos, but have a special eye for portraits. I hope you all come visit me and my work at the annual Rio Costilla Studio Tour.
Gracias!
Contact Info
Nancy DeHerrera Crochet
Sangre de Cristo Photos
artist/photographer

"Have camera, will travel"
PO Box 56
Costilla, NM 87524
575 586 2434
nancsteve@yahoo.com