Bio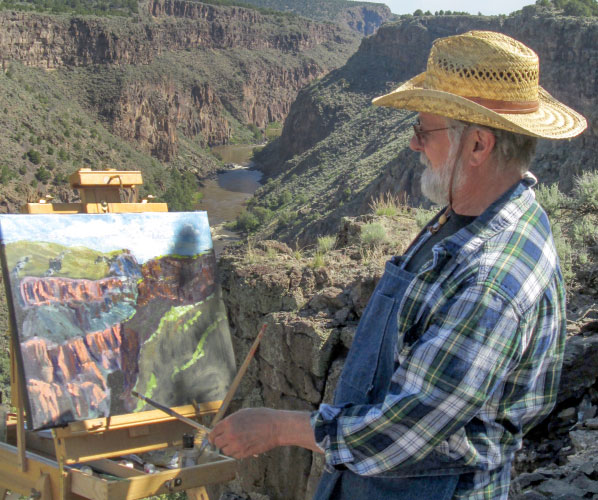 I owe my initial interest in making art to growing up in a rural area and having access to the forest and fields near my house (living in a 150-yr.-old fieldstone house with no electricity or running water) and roaming around with my dog and my imagination.
I was schooled in identifying the herbs and useful plants and trees, a practice that I maintain today. During high school my family moved into the city, where I took every art course that I could. After graduation I enrolled in the US Navy during the Vietnam conflict.
I was trained in communications and electronics, and used those skills to make my living most of my life, but never giving up my interest in the arts. After leaving the service I quit a corporate job to enroll in college and, three colleges later, received a Bachelors in painting and sculpture with a minor in art history.
Before I left school I had won a best-of-show and a mention in printmaking. My final year, I shared a studio with a NYC second-generation expressionist of renown and began making abstract paintings and sculpture. This built a reputation of a sort, and enabled me to have a one-person show at a NY museum and to be invited to a number of gallery shows.
I moved from NY to Boone, NC, and stayed there for almost 15 years. I found a burgeoning art community and participated in an alternative gallery, as well as established galleries, and found an interest in art activism. While there I helped organize an arts council, a fine arts cooperative, and participated in several arts oriented co-op galleries.
At one point I was able to realize a dream that was fostered while sailing in the Caribbean. Namely I was able to move, with my wife, to Hawai'i, and lived there for 8 years. I mostly worked in technical fields, but was in the stable of several galleries on the Big Island.
In 2002 we moved to Taos, and have lived in the county since. We started a gallery in Taos and moved to a second location soon thereafter, but the overhead was too much for us newcomers and so we moved to a location that allowed us to have a small gallery, studios, and living space.
It was from there we moved to Questa and eventually started ArtQuesta, now in its ninth year. Questa is not the ideal place to have a gallery (my wife, Sandra Harrington is a potter) but we have managed to make a go of it. The upside is that this is a beautiful place to live and work.
We will not get rich here, but we are both satisfied that we have made a contribution to our creative pastimes and to the community.
About My Art
My work, be it jewelry or paintings or the occasional print, always stems from an exploration of my senses, my processes, and my materials. Like most artists, I experiment constantly. I look for ways to push the materials, to bend the scene to my wishes, and to try to convey the feelings that led me to make that particular picture. Some of this comes from my background in abstraction, some from whatever I am studying, and some from my apprehension of nature at a particular time. I find that sometimes an experience that I had some time ago will pop into my consciousness while I am working and it will make its way into the work.
At any rate, my products are the result of my process and I hope the viewer can see that and have some part of my attempts to bring beauty into our lives.
Contact Info
ArtQuesta
575-613-2433
harrington@artquesta.com
Come into our gallery on Hwy 522 at the south end of Questa.