Bio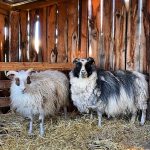 At Virsylvia Farm, we are passionate about food, land, and water justice. A key part of our land and water stewardship is the integration of Icelandic sheep and Angora goats to support our goals of following the five healthy soils principles.
Since adding fiber animals to our farm, we have begun to enter into the world of wool, and will never regret it! Our mohair and wool are spun into yarn at a local mill and by friends and neighbors who are skilled with wheels and spindles, and then dyed and used for weaving, knitting, crocheting, and other art projects.
About Our Art
When you come to Virsylvia Farm, right out front are our sheep and goats. We believe strongly in knowing where your products and food come from, and are excited to be able to provide high-quality, local fiber for our community.
We use native plants to dye our yarns, sell through local shops, and support local businesses and artists to continue healthy land use.
Other than our own dyed yarns, we have our yarn that others have dyed, woven art, blankets, hats, gloves, scarves, and other work from our community.
Contact Info
Virsylvia Farm
Tyler and Amelia Eshleman
345 Sunshine Valley Rd.
HC 81 Box 9011
Questa, NM 87556

575.586.5635