Attention northern New Mexico artists and painters! If you are filling up your calendars with fun art events, don't miss Saturday, June 24 for the first annual Questa Quick-Draw. Get ready to leave the four walls of your studio and come paint "en plein air" — in the open Questa air!
There will be judging and prizes awarded. Area youth are also invited to participate and will be given free painting supplies. Register between 8 and 9 am at the Questa Visitor Center, pay your $15, get your canvases stamped, and find your special place to go paint & draw! By 3 pm, return to place your artwork on easels for judging.
Click here to download the event's info sheet, or write us at questacreativecouncil@gmail.com with "Quick Draw" in the subject line. Better yet, contact Project Director Mary Jo Kelly at (575) 224-4220.
Some interesting places to paint within a 7-mile radius
St. Anthony's Church: restored adobe church in historic plaza.
Eagle Rock Lake: local fishing spot in stunning setting along the Red River on Hwy 38.
Climbing Wall: on Hwy 38, sheer rock cliff.
The Red River in Red River Canyon along Hwy 38: various spots, river, wildflowers.
Village of Cerro: on Hwy 378, turn west/left 4m north of Questa for open views and farmland.
Vistas de Questa Trail: look for brown trail sign and turn left, 2.4m north of Questa.
Cabresto Canyon: into greater elevation, for meadows, river, flowers, and mountain views.
Red River Fish Hatchery: 5.5m south of Questa on Hwy 522, turn west/right. Ponds, river trail, rock canyon walls.
Columbine Canyon: 5.2m on hwy 38, on right; with picnic, campgrounds and trail through woods by river.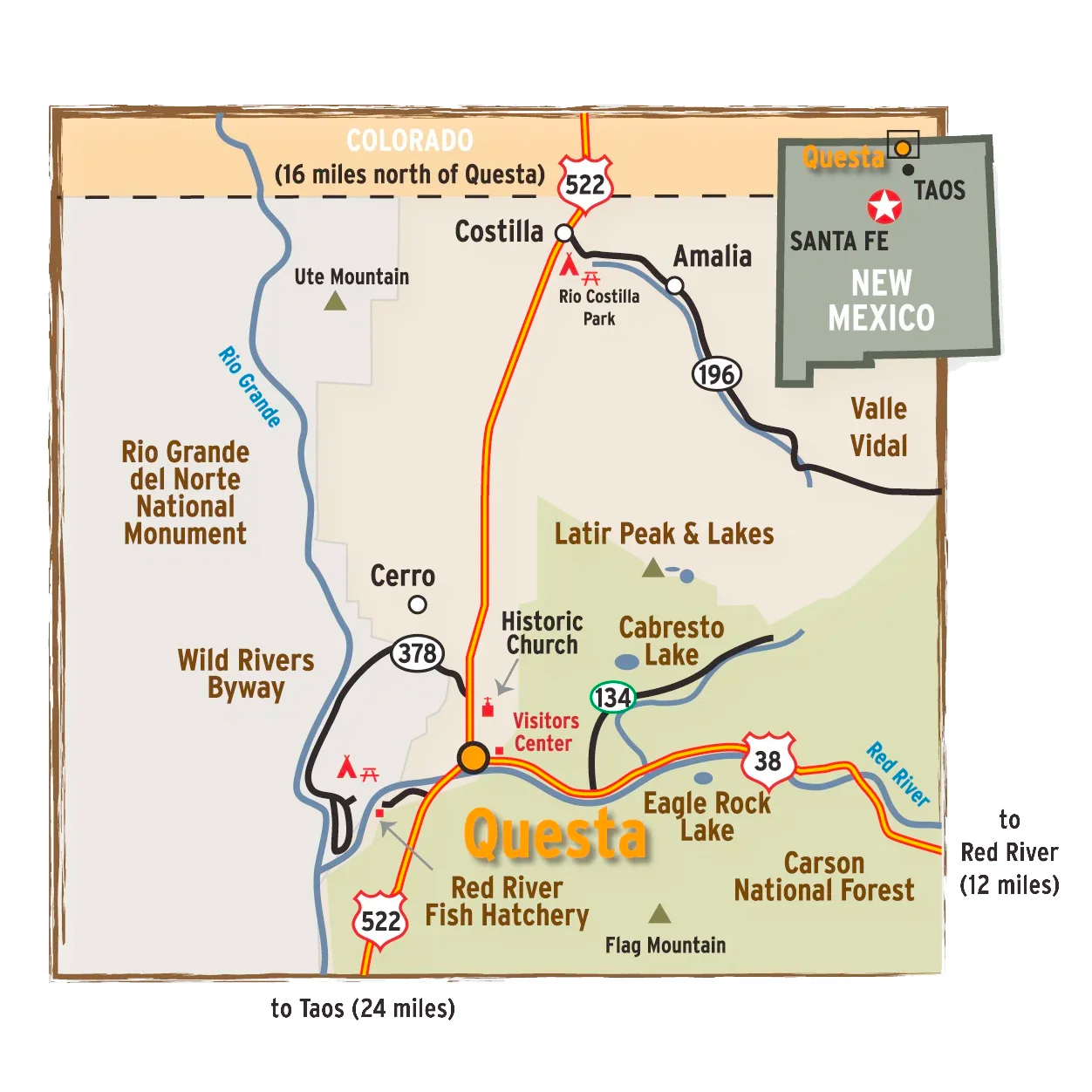 At the Art Market/Farmers Market venue by the Questa Visitors Center, just east of Questa's one traffic light, #1 State Hwy 38.
8-9 am artist check-in, painting until 3 pm, return of artwork to event site, with Opening Reception (including judging and sales) from 3:30 to 6 pm.
ELIGIBILITY
Adults, and youth (FREE. 8 yrs to 17 yrs, under age 14 needs adult chaperone.)
ENTRY REQUIREMENTS AND FEES
$15 entry fee, can be paid via the Entry Fee button above, or by check mailed to QCC, PO Box 1025, Questa, NM. 
Each artist can enter a painting or drawing no larger than 16″ x 20"
All painting surfaces must be stamped on the back by event mgr. upon check-in.
All entries must be completed en plein air, between 8 am to 3 pm on June 24, in the Questa vicinity.
Artwork must be framed with wire hangers or be gallery-wrapped canvas with painted sides and wire hangers. 
* Participants in the Youth Division will be given an 8 x 10" canvas, acrylic paint set, and brushes (bring water and container, paper towels, plastic plate for mixing). For Youth Division, unframed artwork will be accepted.
An additional painting of a mini-canvas by adult artists will be encouraged as a fundraiser for the event host; the non-profit Questa Creative Council (50% proceeds for the artist!). The first 30 adult registrants will be given a 6 x 8" mini-canvas and frame to complete during the Quick-Draw.  
ARTWORK DELIVERY AND SALES
Artists must deliver their work (both large & mini canvases) to the Art Market/Farmers Market event site by 3 pm on Saturday. There is no minimum price for the artwork. – The Questa Creative Council will keep a 30% commission. (The commission on the mini-paintings will be 50%) – Opening Reception and viewing will begin at 3:30 pm, with awards announced at 4 pm. – Reception and sales will run until 6 pm. – Artists can choose to leave their painting(s) for us to sell at the Farmers Market the next day, on Sunday, June 25, 10 am to 2 pm. Artists can arrange to pick up any unsold works. We can mail unsold mini-canvases back to artist if need be. 
*The QCC will handle all sales and collect all payments from the customers. Checks will be mailed to artists within three weeks. – Artists will be responsible for paying state sales tax, which should be considered in their pricing. 
AGREEMENT OF ENTRY and LIABILITY
Questa Creative Council employees and volunteers, or anyone working on the event will not be held responsible for any loss or damage to artwork.  
Your participation constitutes acceptance of all terms and conditions mentioned in this document.
Your sign-in upon registration included release of liability and permission to use your image if taken during event.